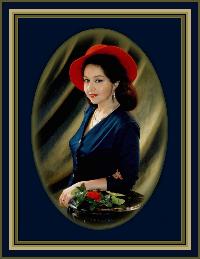 Ludmila Maksimchuk
I write verses, I draw, I play music since the childhood. My native city, Great Novgorod, very much had to these employment. Both in the childhood, and in a youth, and in the further my creative hobbies brightened up and ennobled prose of life. The period of active creativity has begun much later when I lived in Moscow.
Now I am the author of more than twenty books and words more than thirty songs. The majority of books was illustrated with me. Illustrations allow to express fuller attitude to that I write.
Literary works and illustrations to them - only a part of the general plan. I often represent, as on not which stage on a background of picturesque scenery the whole action is developed: actors play performance, music sounds, sing choruses and soloists, stage settings, suits, paints vary, light… Sometimes I dream about all this. It would be desirable to transfer in the book own perception of the world and events in it, using opportunities of modern polygraphy.
I draw basically water colour paints, gouache, sometimes pencils, oil. Many composers write songs on my verses - more than twenty songs sound on concert platforms of Russia and abroad. Some my products are awarded diplomas, letters, medals.
Probably, it would be possible to work in other directions,
but I have chosen paramount for myself the BOOK –
I consider as its main thing to be ambassador in the future!